Maximize Your Practice Revenue with Our Expert Accounts Receivable Management Services
For any healthcare practice, effective AR management services help in streamlining billing operations, improving the accuracy of claims, and enhancing the overall revenue cycle. They ensure that claims are processed promptly, payments are collected efficiently, and denials or discrepancies are addressed promptly, ultimately leading to higher cash flow and reduced accounts receivable aging.
Outsource Strategies International (OSI) offers comprehensive medical billing and Accounts Receivable management services to follow up claims and diligently recover the payment due to you. Our team of AR specialists conducts prompt follow-ups with both insurance companies and patients, resulting in a substantial reduction in AR days. This, in turn, enhances the organization's cash flow and overall financial standing.
Our skilled medical billing specialists, AR analysts and AR follow-up team work together to ensure that you get paid quickly and appropriately.
Need expert support with AR management and medical billing management expertise? We can help.
Benefits of AR Management
Accelerated cash flow
Reduced denial rates
Accurate reimbursements
Efficient patient billing
Enhanced financial stability
Improved patient satisfaction
Customized Accounts Receivable Management Services
We thoroughly evaluate your accounts receivable position and identify denied claims, unpaid claims, and low payments. With timely follow-up and appeals, OSI helps accelerate your cash flow and minimize accounts receivable days. We can handle all your medical billing AR requirements – submission of error-free claims, appropriate analysis of denied claims, and efficient follow-up to settle outstanding claims and dues.
Insurance claims processing
Our dedicated team of AR experts excels in efficiently handling insurance claims, including clean claim submission, tracking, and resolution. Our insurance claims processing service accelerates the reimbursement process and minimizes errors and denials, ensuring that providers receive the full compensation they rightfully deserve.
Payment posting
Posting payments and reconciling accounts are key steps in the revenue cycle management process, which ensures that a provider is receiving all payments to which they are entitled. This process involves recording and allocation of payments, including co-pays, deductibles, and insurance reimbursements, to the appropriate patient accounts.
Patient billing and invoicing
We make sure that the healthcare practice can efficiently bill patients for the services provided, whether it's deductibles, co-pays, or any other financial obligations. With clear attention to detail and adherence to industry standards, we can improve the accuracy of financial transactions and enhance the overall patient experience.
Aged AR cleanup
Our team ensures thorough analysis and resolution of aged accounts receivable to recover outstanding balances. These services focus on the methodical analysis and resolution of aged accounts to recover overdue balances. Aged AR cleanup can boost cash flow and enhance the overall fiscal stability of your practice.
Denial management
Our team has the expertise to investigate and rectify denied claims promptly, ensuring that healthcare providers receive the reimbursement they rightfully deserve. Our service contributes significantly to your practice's financial health.
Appeals and follow-ups
We provide timely appeals for denied claims and proactive follow-up on outstanding accounts. Our service involves a systematic approach to review denied claims, understand the root causes of denials, and craft compelling appeals to insurers. The process includes persistent follow-ups to ensure that the claims are processed efficiently.
Our AR Management Process
OSI's accounts receivable processes include claims verification, timely coding, and rigorous claims scrubbing to reduce the risk of denials. Our dedicated team follows up on outstanding accounts, promptly addresses denials, and provides comprehensive reporting to ensure efficient financial operations and maintain the financial health of your practice.
System-based claim scrubbing
24/7 support technical support
Regular QA checking with readily available reports
30 to 40% savings on operational costs
Customized monthly reports
No setup fees or training costs
No long-term yearly contracts
Why do healthcare practices need effective AR management services?
Healthcare practices need these services to streamline their billing and collection processes, ensuring that the claims are processed efficiently and payments are collected promptly. This ultimately improves the practice's financial health and allows you to focus on patient care.
Is it cost-effective to outsource AR management to OSI?
Outsourcing AR management to us is cost-effective because it allows you to leverage the expertise of professionals in the field, reducing costly errors and improving revenue collection. It also saves valuable time for your healthcare staff.
Are these services customizable to my practice's specific needs?
Yes, the services provided by our AR management company can be tailored to your practice's unique requirements. Providers typically offer customizable solutions to address the specific challenges and goals of your healthcare organization.
What impact can these services have on patient care and satisfaction?
By ensuring smooth financial operations and reducing billing errors, these services indirectly contribute to better patient care and satisfaction, as healthcare providers can focus more on medical services and less on administrative tasks.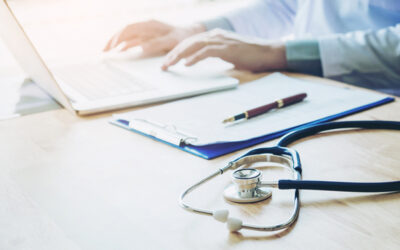 A successful medical practice has strong foundations in business and non-clinical functions. If you are struggling to manage your billing, appointment scheduling, human resources, and other administrative functions, revamping your practice management could be the...