More than 660,000 Americans are being treated for kidney failure or end stage renal disease (ESRD) and of these, 468,000 are dialysis patients, according to the latest U.S. Renal Data System Annual Data Report. Demand for kidney dialysis is expected to increase with the growth in the elderly population and the increasing prevalence of chronic conditions such as diabetes, hypertension and heart disease. However, with the increasing body of regulations, reporting nephrology diagnoses and treatment has become complex. Medical coding outsourcing helps providers ensure accurate reporting of services rendered for appropriate reimbursement.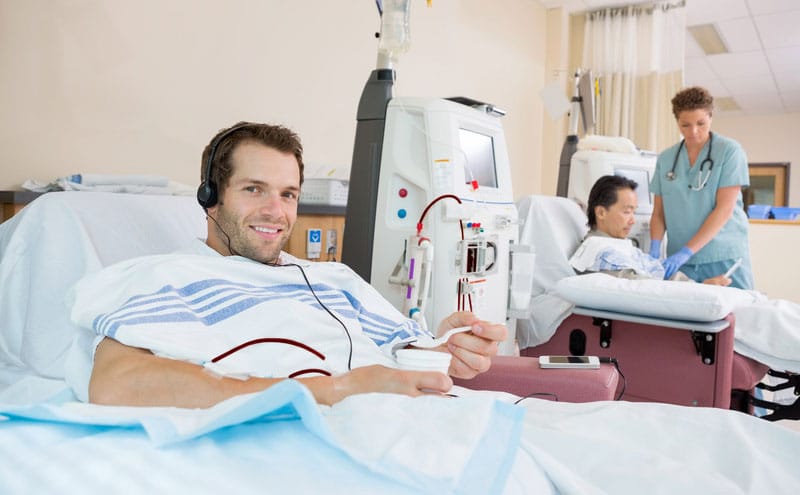 Kidney transplantation is the best treatment for ESRD and dialysis is the only alternative to transplantation. The function of the kidneys is to filter the blood, turning harmful waste products and excess fluid into urine and removing them from the body. Dialysis is needed to clean the blood when the kidneys stop functioning properly. There are two main types of dialysis: hemodialysis and peritoneal dialysis.
Hemodialysis involves pumping a patient's blood through a machine for filtration and passing it back into the body. The procedure is carried out at a medical facility 3 days a week, with a session lasting between 3-5 hours.
Peritoneal dialysis uses the patient's own abdomen as the filter. A catheter is inserted through an incision into the peritoneal cavity. Fluid is pumped into the peritoneal cavity via the catheter and waste is exchanged from the blood and flushed out on a regular basis. While it does not involve regular visits to a medical facility, peritoneal dialysis requires regular treatment at home.
The CPT codes to report dialysis are as follows:
CPT 90935-90940 Hemodialysis Procedures
90935 – Hemodialysis procedure with single provider evaluation – This code is used to report a single treatment that includes physician evaluation
90937 – Hemodialysis procedure requiring repeated evaluations, with or without substantial revision of dialysis prescription – This code is used to report services provided by the physician during the patient's hemodialysis treatment
90940 Hemodialysis access flow study to determine blood flow in grafts and arteriovenous fistulae by an indicator method
CPT 90945-90947 Miscellaneous Dialysis Services and 90989-90999 Other Dialysis Procedures
These code ranges cover services not found in other code ranges for dialysis procedures such as peritoneal dialysis, hemofiltration, and other continuous renal replacement therapies.

90945-90947 Miscellaneous Dialysis Services
90945 Dialysis procedure other than hemodialysis (e.g. peritoneal, hemofiltration) with single physician evaluation
90947 Dialysis procedure other than hemodialysis (e. g. peritoneal, hemofiltration) requiring repeated evaluations with or without substantial revision of dialysis prescription

90989-90999 Other Dialysis Procedures

This code range includes procedure codes to report dialysis training and hemoperfusion. Hemoperfusion is a method to remove toxins from the blood that involves perfusing the blood through activated charcoal or resin and then transfusing the blood back to the patient.
90989 Dialysis training, complete(the date of service should be the date that training was completed and the days/units should be '1')
90993 Dialysis training, uncompleted courses or subsequent training (enter the exact dates of service for each training session; the days or units should be the number of training dates)
90999 Unlisted dialysis procedure, inpatient or outpatient
Bundled CPT Codes for Dialysis Circuit Interventions
In 2017, three new codes (36901, 36902, 36903) were introduced to bundle all work involved in the percutaneous management of a patient dialysis access and three codes (36904, 36905, 36906) were introduced to bundle endovascular dialysis access thrombectomy procedures.
90951-90970 End-stage Renal Disease Services
The codes to report end-stage renal disease services are in the range 90951-90970. For patients with ESRD, dialysis services are reported on a monthly basis, with a code from the 90951-90966. Codes 90967-90970 are billed per day for services lasting less than a full month. The codes are distinguished by age-specific services and location where the services are provided such as outpatient, home, or inpatient setting.
Medicare Coverage for Dialysis
Medicare covers
Hospital inpatient dialysis
Outpatient dialysis from a Medicare-certified hospital or free-standing dialysis facility
Home dialysis training, sometimes called self-dialysis, from a dialysis facility. If a Medicare patient needs dialysis, a clinic that is certified to provide home training and support can bill Medicare for a certain number of training sessions, depending on the modality. CMS pays up to 15 training sessions for peritoneal dialysis and 25 sessions for hemodialysis. This includes:

Training for the patient and caregivers who will provide home dialysis
Home dialysis equipment and supplies
Medications related to treatment (medication is only covered when overseen by a doctor)
Nephrologists need to ensure coding accuracy and appropriate documentation to receive optimal reimbursement for their services. Partnering with an experienced nephrology medical billing and coding company can help providers ensure accurate reporting of dialysis and other procedures while meeting the additional claim submission requirements of Medicare and private payers.