Our medical billing and coding company is glad to announce that our articles "March is National Kidney Month: Know How the Kidneys Support Your Health" by Amber Darst and "Top Strategies to Streamline Prior Authorizations" by Meghann Drella, CPC have been featured in BC Advantage Magazine. The articles appear in the Jan / Feb 2022 | Issue 17.2.
Amber Darst and Meghann Drella are solutions managers at OSI. The article titled "March is National Kidney Month: Know How the Kidneys Support Your Health" by Darst has been published under the Billing and Coding Category. It explains the significance of National Kidney Month and about raising awareness about chronic kidney disease (CKD). The theme of 2022 National Kidney Month is "Get to Know Your Hardworking Kidneys."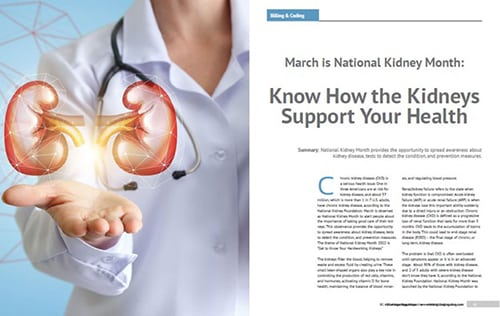 Kidney diseases are serious health issues as they may lead to kidney failure and other health problems, such as a stroke or heart attack. According to the National Kidney Foundation, one in three Americans are at risk for kidney disease, and about 37 million, which is more than 1 in 7 U.S. adults, have chronic kidney disease.
Along with highlighting the importance of National Kidney Month, the article also discusses documenting kidney disease and related conditions using ICD-10 codes as well as statistics on kidney disease, signs and symptoms, and the importance of early diagnosis and treatment. The
"Top Strategies to Streamline Prior Authorizations" by Drella has been published under the Practice Management section. The article discusses the importance of prior authorizations and how practices can expedite and improve the efficiency of the prior authorization process. The article also focuses on New Prior Authorization policies which are proposed to take effect January 1, 2023.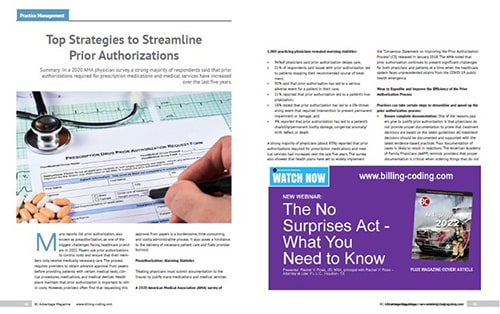 BC Advantage Magazine is a highly acclaimed, CEU-approved national online healthcare publication and the largest independent resource provider in the industry for medical coders and billers, healthcare auditors, practice managers, compliance officers, and clinical documentation experts. It features articles written by industry professionals on a wide range of subjects such as billing/coding, legal issues, marketing, business building, career advantage, coders 20/20, news, reviews and more.
OSI has been successfully providing accurate medical billing, coding, and insurance verification services to the healthcare industry for well over a decade. The company's AAPC-certified coders have a strong understanding of ICD-10-CM and CPT requirements and procedures and stay up-to-date with coding changes, payer-specific documentation requirements, and state and federal regulations. The company regularly publishes articles and blogs on medical billing and coding as well as other interesting developments in the field of medicine.
"As a company that has been providing medical billing, coding and other support functions such as insurance verifications and authorizations for medical offices in the USA for more than 15 years, we are proud of our accomplishments. Getting featured on BC Advantage Magazine validates our company's culture of hard work and customer service," says Rajeev Rajagopal, President of Managed Outsource Solutions.
OSI provides customized revenue cycle management solutions for all medical specialities. Their experience and expertise have been continuously recognized and featured by BC Advantage Magazine.
For more information about Outsource Strategies International, please visit www.outsourcestrategies.com.