A reputable medical billing and coding company, Outsource Strategies International (OSI), is proud to announce that BC Advantage Magazine, the highly acclaimed CEU-approved national online healthcare publication featured an article – written by our Senior Solutions Manager, Meghann Drella, CPC – as their March edition – MARCH / APRIL 2021 | Issue 16.2 – cover story. The article is titled "March Is Multiple Sclerosis Education and Awareness Month".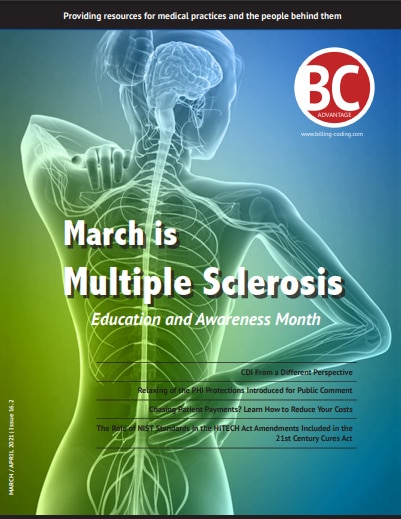 The article provides a comprehensive overview of a chronic inflammatory disease that affects the central nervous system, multiple sclerosis (MS). According to the recently updated Atlas of MS, more than 2.8 million people worldwide are estimated to be living with MS, including about 1 million in the United States. It is believed that MS is an autoimmune disease in which the body's immune system attacks the healthy tissue and damages the protective coverings of nerve cells, affecting the brain, spinal cord, and optic nerve. When the nerve cells lose their ability to transmit information, it causes balance problems, weakened vision, fatigue, and other symptoms throughout the body.
As the title implies, it's an awareness month, and the article highlights the fact that March is observed as Multiple Sclerosis Education and Awareness Month to spread awareness about the condition and to support people living with the condition. It also discusses the major risk factors – such as sex, genetic factors, smoking, infections, vitamin deficiencies and emotional stress – that cause MS, signs and symptoms, four types of MS, diagnosis and treatment options.
The importance of early and rapid diagnosis of MS and its treatment options are discussed at length in the article, along with the ICD-10 codes to report the condition. Accurate billing and coding are crucial for the financial health of medical practices and physicians. Documenting the patient's signs and symptoms clearly and correctly is necessary to ensure coding to the highest level of certainty. The article also discusses some guidelines for E&M code selection – as visits with MS patients can take time – which helps in better reimbursement for services provided.
Established in 2002, OSI is a healthcare business process outsourcing company based in the U.S. The company provides end-to-end medical billing and coding services and practice management solutions for all medical specialties, from front office administrative management to back office coding, billing and collections. They serve medical practices, physicians, dental practices, and dentists. OSI's medical billing team is also specialized in insurance eligibility verification and authorization.
OSI's team of skilled AAPC-certified coders has a solid understanding of HCC coding, ICD-10-CM and CPT requirements and procedures, and stays up-to-date with coding changes, payer-specific documentation requirements, and state and federal regulations.
OSI strives to leverage their medical billing and coding expertise to provide customized solutions for all medical specialties. The company's experience and expertise have been recognized by BC Advantage Magazine, the largest independent resource provider in the industry for medical coders and billers, healthcare auditors, practice managers, compliance officers, and clinical documentation experts.
Earlier, another of OSI's articles titled "September is Rheumatic Disease Awareness Month" had also appeared as the cover story of BC Advantage Magazine's Sept / Oct 2020 | Issue 15.5.