Millions of Americans, especially seniors, utilize physical therapy (PT) to restore and improve functionality, reduce pain and increase mobility for endurance, stamina and balance. Physical therapy also improves the ability to age well and to recover from medical conditions, illnesses or injuries. During the pandemic, physical therapists provided virtual consultations for patients who did not require hands-on interventions. However, one major concern is the severe cuts that physical, occupational, and speech therapy providers are facing. Reimbursement for partial and full services provided by physical therapy assistants and occupational therapy assistants has been slashed by 15% by the Centers for Medicare & Medicaid Service. Physical therapy faces a 3.5% cut in the 2022 Medicare physician fee schedule. These payment reductions make reliable physical therapy medical billing services all the more relevant.
Common Physical Therapy CPT Codes
Most of the codes physical therapists use to report their services and treatments are in the 97000 section ("Physical Medicine and Rehabilitation"). Here are 10 CPT codes that are frequently used by physical therapists:
97110 Therapeutic Exercise
97112 Neuromuscular Re-education
97140 Manual Therapy
97161 PT Evaluation low complexity
97530 Therapeutic Activities
97116 Gait Training
97150 Group Therapy
97535 Self-Care/Home Management Training
97750 Physical Performance Test or Measurement
97761 Prosthetic Training
Looking for expert billing and coding services for your
physical therapy practice?
Discuss your requirements with OSI at (800) 670-2809!
The tables below show the 2022 reimbursement rates for these CPT codes for Medicare Ohio providers: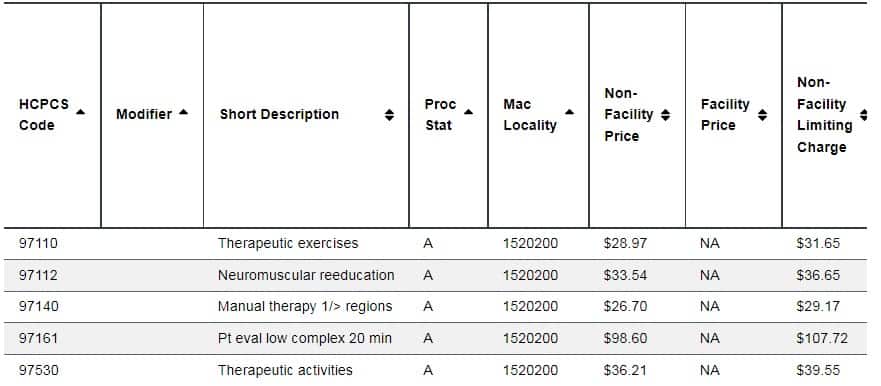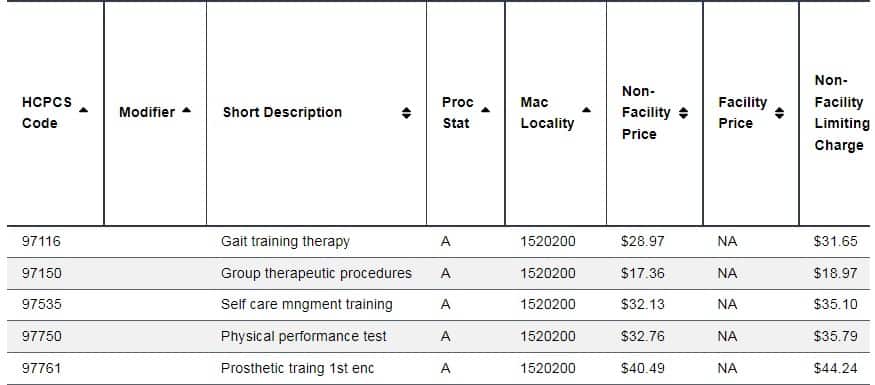 Source: Physician Fee Schedule, CMS website
These rates are specific to Ohio MAC providers and will be different for all localities, including commercial carriers.
Physical therapists should also provide clear documentation that demonstrates the medical necessity of services provided and use the appropriate ICD-10 codes and CPT codes on claims.
Billing Physical Therapy Services
The 8-Minute Rule
The 8-Minute Rule is for calculating the proper number of CPT code units to bill for a particular encounter. Under this rule, if the therapist provides direct, one-on-one therapy for at least eight minutes, they will be receive payment for one unit of a time-based treatment code. CPT codes are classified into timed and untimed and this must be taken into account when billing for services under the 8-minute rule.
Calculating PT Units
Understanding how to calculate PT units is essential for accurate billing. A medical billing "unit" is defined as the number of times the service reported was performed. Each billable unit of a timed code represents 15 minutes of service provided to a patient. Adding the total time for time-based services for a particular date of service and dividing this total time by 15 will provide the number of billable units.
If 35 minutes of manual therapy are provided, you can only bill for two units. This is because the 8-Minute Rule only applies to "remainder minutes" and the remainder of five minutes does not meet the 8-minute threshold for billing an additional unit. After calculating the total minutes spent on providing the service, the following table can be used to determine the total allowable units that can billed for a particular date of service based on time:

Medicare providers are required to bill Medicare patients according to CMS rules.
The 8 minute rule applies to direct contact therapeutic services which requires the one-on-one attendance of the provider.
To receive reimbursement from Medicare for a time-based CPT code, the physical therapist must provide the treatment for at least eight minutes.
Timed CPT codes should be billed for the appropriate number of units based on the time intervals in the code descriptions.
The CMS 8-minute rule applies to many insurance plans, including those that fall under federal, state, and commercial purview.
Mixed Remainders
Suppose the leftover minutes comprise 3 minutes of left over therapeutic exercise and 5 leftover minutes of manual therapy. On their own, these remainders do not meet the 8-minute rule. Medicare's billing guidelines allow these remainders to be combined into 8 minutes and billed as one unit of the service.
The American Medical Association (AMA's) Rule of Eights differs from the Medicare 8-Minute Rule in that the AMA's rule does not permit using the cumulative total of your remainders to justify billing additional units. If leftover minutes are a combination of services, you can bill for them only if one individual service totals at least eight minutes, according to AMA's rule.
As the 8-minute rule does not apply to all payers, it is important to make sure you are billing in accordance the payer's specific guidelines.
Contact OSI at (800) 670-2809 today !
See how we can help your physical therapy practice thrive!
Use the Appropriate Modifiers
Besides using the correct codes, creating clean claims also includes applying the right PT billing modifiers. Here is one example regarding services provided by physical therapy assistants (PTAs). CMS has established modifier CQ to indicate services furnished in whole or in part by a physical therapy assistant (PTA).CQ modifier: Outpatient physical therapy services furnished in whole or in part by a physical therapist assistant.
The CQ modifier has to be used, when applicable, for services furnished in whole or in part by a PTA on the claim, along with the respective GP therapy modifier – Service delivered personally by a physical therapist or under an outpatient physical therapy plan of care. CMS states that the CQ modifier must be reported with the GP therapy modifier and claims with modifiers not so paired will be rejected/returned as unprocessable.
With all the challenges that physical therapy practices are facing, outsourced medical billing and coding services can be a big support. Coders and billing specialists in established companies are knowledgeable about the latest codes, modifier rules, and federal and commercial payer guidelines. They can help therapists code and bill their services correctly and receive accurate and timely reimbursement.