The American College of Radiology (ACR) has called upon radiology practices to prepare for the radiology codes and guideline changes that will be implemented in 2019. Outsourcing medical coding to an expert is the best way for practices to stay ahead with the updates to radiology codes. Here are the key CPT code and ICD-10 code changes for radiology in 2019: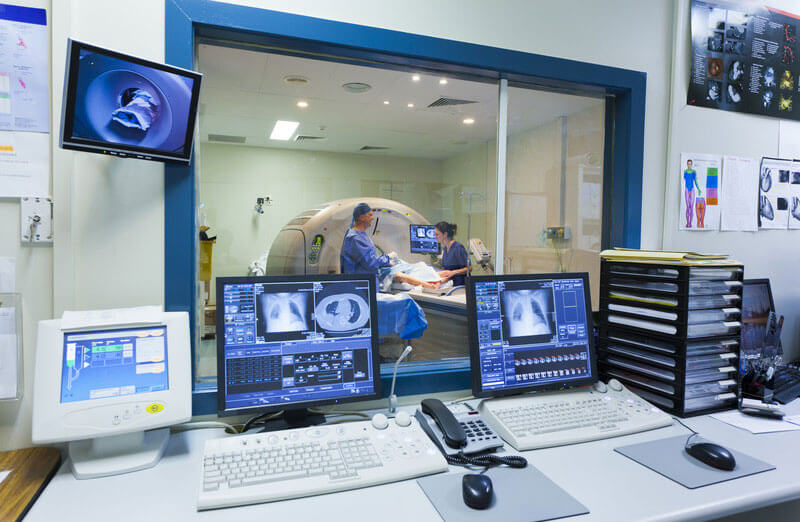 The ACR reports that bundling mandates from the American Medical Association's (AMA) Relativity Assessment Workgroup (RAW) to identify potentially misvalued codes have led to the creation of several new CPT codes. Bundling is anticipated for: fine needle aspiration biopsy, breast MRI with computer-aided detection (CAD), dilation of urinary tract, and peripherally inserted central venous catheter (PICC) line codes.
Diagnostic Radiology
Revision to the fine needle aspiration code 10021, deletion of 10022, and the addition of 9 new codes that bundle the procedure and the radiological supervision and interpretation: As fine needle aspiration code 10022 was identified as being reported together with 76942 more than 75 percent of the time, it has been referred for bundling.
Four new codes for breast MRI with CAD: It is proposed that codes 77058, 77059 and 0159T be deleted and replaced with 4 new breast magnetic resonance imaging codes: 2 codes to report breast MRI with and without contrast, and 2 codes that bundle computer-aided detection (CAD). With the new codes, breast MRI with CAD will be moved from Category III to Category I.
Deletion of 27370, Injection of contrast for knee arthrography: Code 27370 has been identified as a potentially misvalued service. It has been recommended that this code be referred for deletion and replaced with a new code to report the injection procedure for knee arthrography or CT/MRI knee arthrography.
New codes for ultrasound elastography: Ultrasound elastography will have 3 new Category I codes which will distinguish reporting per organ, first target lesion, and each additional target lesion. Category III code 0346T ultrasound, elastographyis proposed for deletion.
New code proposed forMagnetic Resonance Elastography (MRE): MRE is a new diagnostic imaging technique that combines MRI imaging with sound waves to create an elastogram showing the stiffness of body tissues. As MRE currently has no CPT code, it is proposed that a new code be made available to report this procedure.
New codes for ultrasound procedures: There will be 2 new codes to report ultrasound procedures that use dynamic microbubble-sonographic contrast with targeted ultrasound to evaluate lesions.
Deletion of Fluoroscopy code 76001: Due to low volume reporting, it is proposed that Code 76001 Under Other Diagnostic Radiology (Diagnostic Imaging) Related Procedures be deleted. This is expected to address miscoding concerns.
Interventional Radiology
With advances in technology and new procedures being performed, interventional radiology coding has become complex.
Two new CPT codes for peripherally Inserted Central Catheter (PICC): In 2019, 2 new CPT codes will be available to report PICC line procedures that bundle imaging guidance, image documentation and all associated radiological supervision and interpretation.
Codes 36568 insertion of central venous access device and 36569 Insertion of peripherally inserted central venous catheter will be updated to report PICC placement without imaging guidance.
Code 36584 will be revised to include imaging guidance, image documentation, and radiological supervision and interpretation required to perform the replacement.
CPT guidelines for central venous access procedures guidelines will be updated to reflect these changes.
Gastrostomy Tube Replacement
Code 43760Change of gastrostomy tube, percutaneous, without imaging or endoscopic guidance will be deleted to address the differences in physician work. Code 43760 will be replaced with two new codes that define simple versus complex replacement of a percutaneous gastrostomy tube.
Dilation of Urinary Tract
Code 50396 Introduction of guide into renal pelvis and/or ureter with dilation to establish nephrostomy tract, percutaneous will be deleted. It is proposed to introduce 2 new codes to report dilation of the urinary tract for endourologic procedures
Category III
Two new Category III codes will be introduced to report the following:
Pulse-echo ultrasound bone density measurements for bone mineral density analysis
Positron emission tomography (PET) for the absolute quantitation of myocardial blood flow at rest and stress
MIPS Patient Relationship Modifiers
Five patient relationship modifiers are proposed to be developed for 2019 under the Merit-based Incentive Payment System (MIPS).
Radiology billing and coding is complex. Private and government payers have their own specific guidelines and scrutinize claims for imaging services, which makes the claims submission process even more challenging. With the numerous revisions proposed to radiology codes and reporting guidelines in 2019, partnering with an expert medical billing and coding company is a practical option for practices to implement the changes and ensure accurate claim submission for proper reimbursement.