Valentine's Day, no doubt is a special occasion to express one's love for near and dear ones, shop for expensive gifts, enjoy exotic holidays and romantic candlelit dinners, spend memorable evenings together, and more. However, it can also be a day of mishaps, woes, ailments, breakups, stress, loneliness, etc. and some may end up in an ER visit. Treatments provided in ERs can be billed on the medical claims using relevant ICD-10 and CPT codes. Experienced medical billing companies can support Emergency doctors to prepare and submit medical claims for correct reimbursement from insurers. Not only shopping, even common gifts such as roses and jewelries, Cupid's arrow hitting hard, chocolate allergies, fire from real candles, accidents from alcohol-impaired driving and hidden health hazards can also cause mishaps.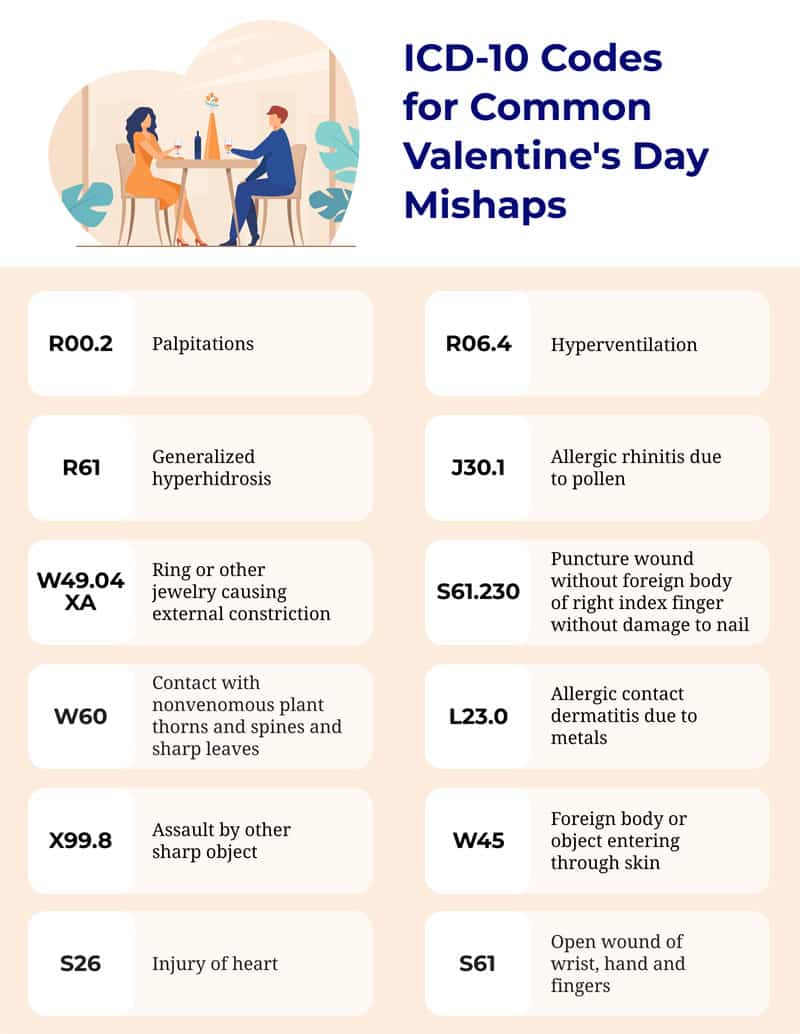 Valentine's Day Mishaps and Related ICD-10 Codes
Injuries from common gifts
Roses
Thorny prick
S61.230 Puncture wound without foreign body of right index finger without damage to nail
W60.XXXA Contact with non-venomous plant thorns and spines and sharp leaves, initial encounter
Allergic reaction
J30.1 Allergic rhinitis due to pollen
Jewelry
Constriction due to wrong size
W49.04XA Ring or other jewelry causing external constriction
Unpleasant skin reaction
L23.0 Allergic contact dermatitis due to metals
Cupid's arrow hitting hard
X99.8 Assault by other sharp object
W45 Foreign body or object entering through skin
W21.89xA Striking against or struck by other sports equipment, initial encounter
S26.99xA Other injury of heart, unspecified with or without hemopericardium, initial encounter
Body reactions
R00.2 Palpitations
R06.4 Hyperventilation
R61 Generalized hyperhidrosis
Romantic dinner
Y92.511 Restaurant or café as the place of occurrence of the external cause
Too much sweet
Consuming too much chocolates and chocolate-covered strawberries can cause health issues.
R73.9 Hyperglycemia, unspecified
K30 Functional dyspepsia
X10.1XXS Contact with hot food, initial encounter
Eating too fast
Eating delicious treats too fast can result in choking or other dangerous conditions.
T17.220A Food in pharynx causing asphyxiation, initial encounter
Loneliness
Not only romance and dinners, this is also the day for breakups, which can cause mental stress and depression due to loneliness.
R45.83 Excessive crying of child, adolescent or adult
Broken heart
I51.81 Takotsubo syndrome
Problems in relationships
Z63.0 Problems in relationship with spouse or partner
Alcohol-impaired driving
Date out for a night may involve drinking, which may lead to car crashes.
V43.5 Car driver injured in collision with car, pick-up truck or van in traffic accident
While ER departments are prepared to provide necessary treatments for Valentine's Day-related mishaps on February 14, professional medical billing companies are prepared to provide reliable emergency room medical coding services.
Experienced companies will be up to date with the changing ICD-10 and CPT coding standards.