All medical specialties get ready for the ICD-10 code changes that occur every year on October 1. In FY 2021 (October 1, 2020 to September 30, 2021), there are 72616 ICD 10 codes which includes 490 additions, 58 deletions and 47 revisions. The main ICD-10 coding updates for chiropractic offices in FY 2021 are new headache codes, new temporomandibular joint (TMJ) condition codes and codes for accidents involving micro-mobility devices. Medical coding companies are ready to help chiropractic offices report their services using the new and revised codes.
The non-billable R51 for headache has been expanded to two specific codes:
R51.0 Headache with orthostatic component, not elsewhere classified
R51.9 Headache, unspecified
An orthostatic headache is a positional headache that worsens when the person stands up. Symptom code R51 is to be used when the headache cause (e.g., intracranial hypotension, migraine) cannot be clearly diagnosed. This code was added to distinguish several codes related to intracranial hypotension and cerebrospinal fluid leaks, explains a report in Dynamic Chiropractic. If the cause of the headache remains unclear, the unspecified code (R51.9) should be reported
Temporomandibular dysfunction (TMD) refers to various conditions affecting the temporomandibular joint (TMJ) and/or the surrounding masticatory musculature. Temporomandibular joint (TMJ) and muscle disorders are characterized by pain and dysfunction in the jaw joint and the muscles controlling jaw movement. Chiropractors treat pain and strain of the jaw indicated by codes M26.601 Right temporomandibular joint disorder, unspecified, M26.602 Left temporomandibular joint disorder, unspecified, and M26.603 Bilateral temporomandibular joint disorder, unspecified, and codes related to M26.621 Arthralgia of right temporomandibular joint. In FY 2021, there are new ICD-10 codes for TMJ conditions that provide additional information and specificity for TMJ for arthritis and arthropathy:
M26.641 Arthritis of right temporomandibular joint
M26.642 Arthritis of left temporomandibular joint
M26.643 Arthritis of bilateral temporomandibular joint
M26.649 Arthritis of unspecified temporomandibular joint
M26.651 Arthropathy of right temporomandibular joint
M26.652 Arthropathy of left temporomandibular joint
M26.653 Arthropathy of bilateral temporomandibular joint
M26.659 Arthropathy of unspecified temporomandibular joint
New codes for Accidents Involving Micro-Mobility Devices
There are 123 new codes to report accidents involving micro-mobility devices such as hoverboards, electric bikes, and segways. These External Cause codes may be required for accident insurance claims. The newly added sub categories are: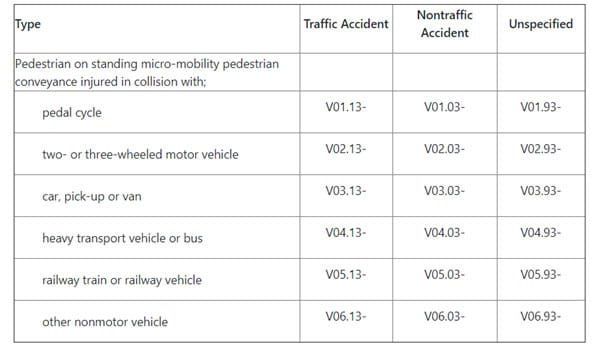 Source: www.findacode.com
Osteochondrosis is a bone growth disorder involving the developing growth plate and one or more of the surrounding ossification centers (epiphyses) which primarily occurs in children and is caused by a variety of factors (i.e., genetics, injury, repetitive trauma/overuse, vascular abnormalities, mechanical factors, hormonal imbalances). It is characterized by degeneration or necrosis followed by revascularization, regeneration, and recalcification. Symptoms include varying levels of discomfort, pain, or even disability.
New sub-categories have been added for osteochondrosis, a set of disorders that affect bone growth in children and adolescents:
M92.50- Unspecified juvenile osteochondrosis
M92.51- Juvenile osteochondrosis of proximal tibia
M92.52- Juvenile osteochondrosis of tibia tubercle
M92.59- Other juvenile osteochondrosis of tibia and fibula
Other Specified Site/Joint Additions
Several subcategories which have new codes that include options to report "other specified site" and "other specified joint":
There is an option to report an "Other specified site" for the following new codes:
M24.19 – Articular cartilage disorders
M24.29 – Disorder of ligament
M19.09, M19.19, M19.29 – Osteoarthritis:
M05.7A, M05.8A, M06.0A, M06.8A, M08.0A, M08.2A, M08.4A, M08.9A – Rheumatoid arthritis
The following new codes now have the option to report an "other specified joint":
M24.69 – Ankylosis:
M24.59 – Contracture:
M24.89 – Derangement:
M24.39, M24.49 – Dislocation:
M25.39, M25.59, M25.69 – Other (instability, pain, stiffness)
The ICD-10-CM Official Guidelines for Coding and Reporting FY 2021 also include several instructions. For instance, according to the guidelines 'unspecified' should be used if the documentation does not provide further information to report a more specific ICD code. Codes titled "other" or "other specified" are for use when the information in the medical record provides detail for which there is no specific code. The term not elsewhere classified (NEC) means a detailed diagnosis was provided but there is no specific ICD-10 code for it, which means that a more generalized code is assigned. The new Excludes2 notes provide guidance on this.
Reporting services using the new codes will ensure clean claim submission and appropriate payment. The best way to do this is to partner with a physician billing company with expertise in chiropractic coding and billing. Coders in established medical billing companies stay up to date with coding changes and can help providers report the most specific diagnosis codes to describe the patient's diagnosis, symptom, complaint, condition, or problem.