Chiropractic care is widely recognized as a safe and non-invasive method for addressing neuro-muscular conditions. It serves as an alternative approach to alleviate pain in muscles, joints, bones, as well as connective tissues such as ligaments, cartilage, and tendons. In certain instances, chiropractic treatment may be combined with other conventional therapies to optimize outcomes. Recent changes in Medicare and private payer insurance requirements and regulations have added complexity to chiropractic medical billing and coding. To ensure accurate claims, minimize claim denials, and receive proper reimbursement, chiropractors must update their billing workflows.
In this blog, we discuss the ICD-10 codes for some common conditions that chiropractors treat.
ICD-10 Codes for Common Chiropractic Disorders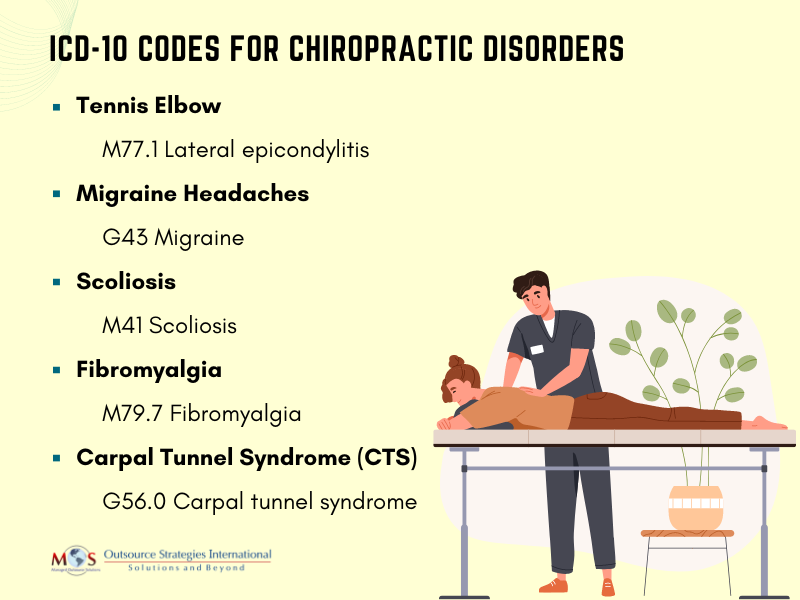 Tennis Elbow
M77.1 Lateral epicondylitis

M77.10 …… unspecified elbow
M77.11 …… right elbow
M77.12 …… left elbow
Migraine Headaches
G43 Migraine

G43.0 Migraine without aura
G43.1 Migraine with aura
G43.4 Hemiplegic migraine
G43.5 Persistent migraine aura without cerebral infarction
G43.6 Persistent migraine aura with cerebral infarction
G43.7 Chronic migraine without aura
G43.9 Migraine, unspecified
Scoliosis
M41 Scoliosis

M41.0 Infantile idiopathic scoliosis
M41.1 Juvenile and adolescent idiopathic scoliosis
M41.2 Other idiopathic scoliosis
M41.3 Thoracogenic scoliosis
M41.4 Neuromuscular scoliosis
M41.5 Other secondary scoliosis
M41.8 Other forms of scoliosis
M41.9 Scoliosis, unspecified
Fibromyalgia
Carpal Tunnel Syndrome (CTS)
G56.0 Carpal tunnel syndrome
Chiropractors need to assign the specific ICD-10 diagnosis codes for the various conditions they treat. Partnering with a professional medical billing and coding company specializing in chiropractic billing can ensure correct code assignment and timely and accurate claim for optimal reimbursement.
Looking to simplify your chiropractic billing?
Reach out to our expert team. Contact us at(800) 670 2809