When I met James, a very close friend of mine a couple of years back, he was considerably worried and seemed to be at a loss. I soon discovered that the issue was his difficulty to balance his professional and personal life. A cardiologist working for a reputable practice for a number of years, he had virtually compromised his personal life and was spending most of his time on his professional life. Even then he complained of his inability to be competitive in the industry due to lack of time for innovative research. Issues with in-house cardiology medical billing formed the core of his troubles. I advised him to outsource the billing work to a reliable medical billing company and assured him positive results.
Why is Cardiology Medical Billing Complicated?
  Cardiology requires specialized medical billing largely on account of its multiple procedure rules and complex contractual adjustments. Data has to be gathered from multiple systems and sites.
Cardiology has multiple subspecialties such as general clinical, heart failure, interventional, nuclear specialty, transplant and surgery.
CPT code assignment is often extremely challenging, especially when modifiers are used. For instance, the codes 93451, 93456, and 93503 cannot be reported with modifier 51. Most non-congenital procedures are to be coded with a single code.
Coders need to have awareness about deleted codes, revised codes and new codes. Recently, the ablation codes 93651 and 93652 were removed and replaced with new CPT codes 93653 through 93657. Eight new codes were created 36221 – 36228 for cervicocerebral angiography.
A Good Medical Billing Company Can Rise Up to the Toughest Challenge
Understandably, James didn't immediately accept my advice since he had inhibitions about bringing in an external agency. As a doctor already enjoying the privileges of outsourcing, I convinced him that established billing companies have skilled, experienced and certified billers and coders who will ensure maximum reimbursement and minimum denials. I clearly outlined the features of a reliable medical billing company so that he could feel secure when outsourcing his billing tasks.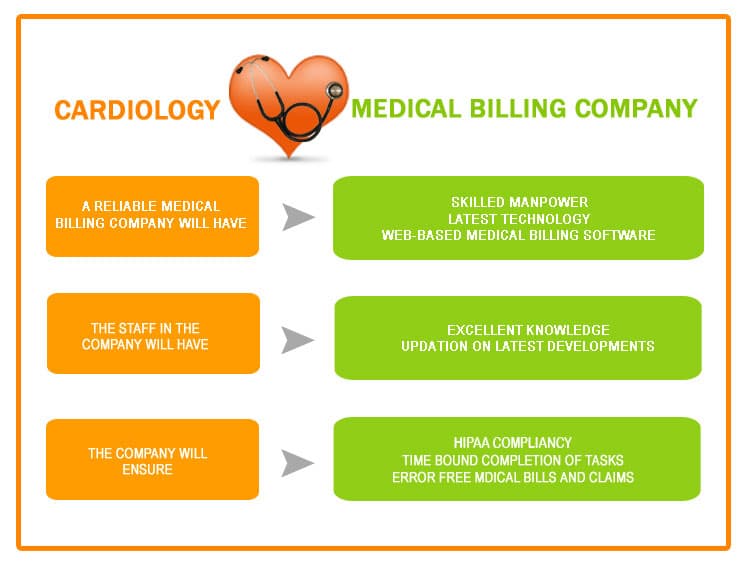 The company will have skilled manpower and the latest technology and web-based medical billing software to perform the challenging billing tasks.
The staff will have excellent knowledge about cardiology billing and coding and stay updated on the latest developments.
The company will ensure completion of the medical billing tasks in a timely manner.
The medical bills and claims are submitted on time without any errors.
A reliable company will be fully compliant with HIPAA regulations, so that there will be no loss/leak of sensitive patient information.
The good thing is that I was able to convince my friend, and the only task which remained was finding a reliable medical billing service. I advised him to find an apt medical billing company based on their track record and client feedback.
Last year James outsourced his cardiology medical billing work to an established company and is now feeling great about the decision. He has made a remarkable improvement in his profession as he invested more time on it and is happy that he could spend comparable time with his family, as well. Are you a cardiologist like Mr. James striving to provide the best care to your patients but feel bogged down by administrative workload such as cardiology medical billing? Whether a cardiologist, cardiologist group, hospital or specialty clinic, you can benefit by using cardiology billing services.
Outsourcing cardiology medical billing enables you to experience increased cash flow and profitability while you focus on patient care. As in the case of Mr. James, your accounts receivable will be reduced considerably and the cost associated with staff training and retention eliminated. You get to enjoy a lot more benefits such as accurate charge capture, flawless medical coding and billing, and denial management services. All denied claims will be reprocessed to ascertain why the claims were denied. Then along with the necessary documentation, the claims will be resubmitted for payment. This will ensure that you get paid for the services provided to your patients.